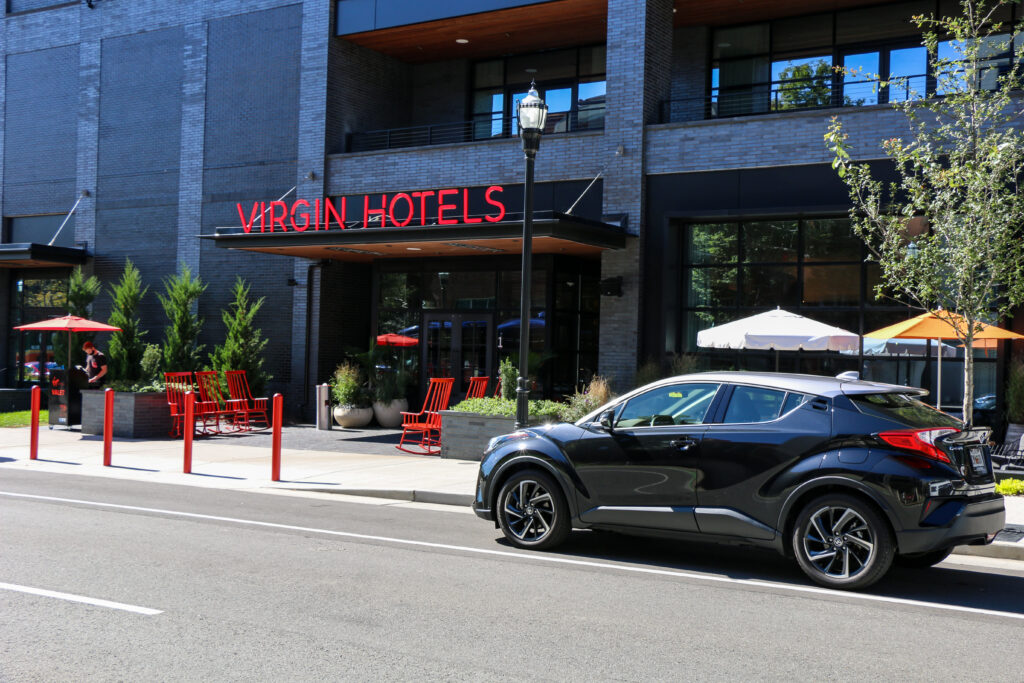 You all know we love giving you a closer look into all things new. It had been a while since Grant or I had been to Nashville, so we knew we wanted to spend some time checking out the new spots and visiting some old favorites with plenty of time to enjoy. By just looking at the lobby of the new Virgin Hotels Nashville, we know we had to see this new spot for ourselves. If you remember, our relationship started with me swiping up to a story of Grant playing the drums so the lobby caught our eye. Lets step inside…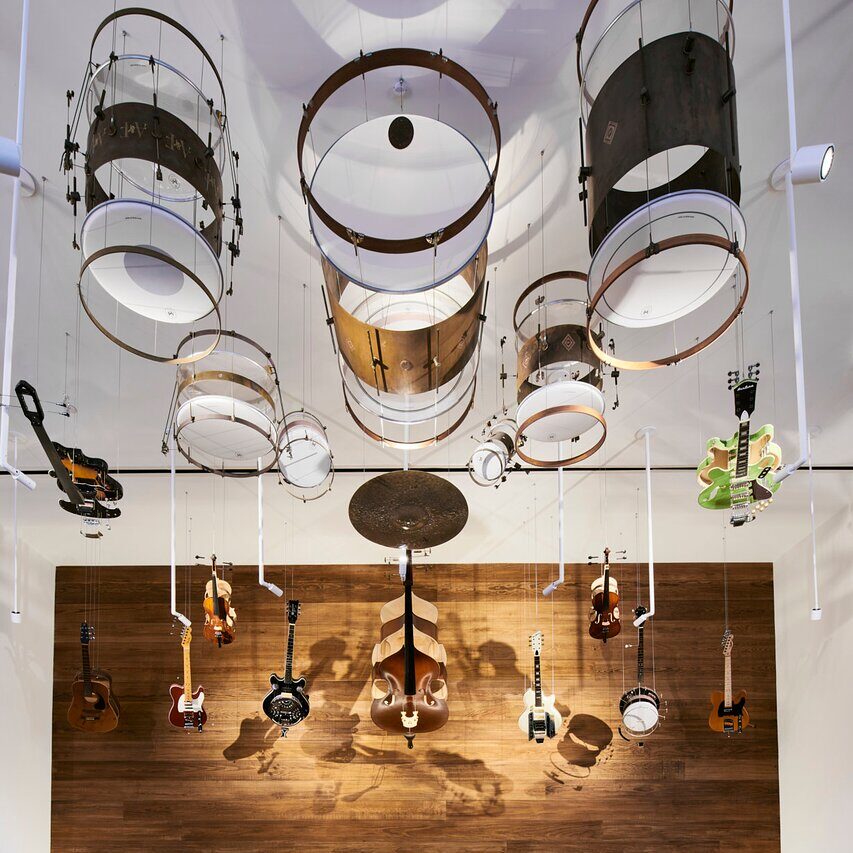 The location: There's no doubt that pulling up to the hotel makes a statement. The modern black facade with pops of red catch your eye at the roundabout pulling up through music city. The tall building is steps away from music row, restaurants, nightlife and plenty of streets to walk your four legged friends. The property is also a short drive to some of Nashville's iconic areas like Broadway and the Gulch. Location for this property definitely gets 5 out of 5 stars.
The Common Areas: There's design and function with a lot of coziness throughout these spaces on property. From the coffee shop workspaces filled with perfectly careless bookshelves, to the moody lounge that doubles as a bar and restaurant, there's a place to hang out, drink, work, or just relax at every corner. Did I mention there's even a screening room? The spaces even extend to outside. The bar area is double sided for you to enjoy a drink outside on a swing seat with friends or in one of the more relaxed lounges. If you wander up to the red velvet steps, you may even find yourself in a fully turfed out patio space – seats, animals, and everything you can think of fully created from turf. You'll have to check this out for yourself on your visit. The common areas get a 5 out of 5.
The Room: Now, let's wander upstairs to the chambers. These rooms are BIG! The "get ready" area alone is as big as other hotel rooms. The entry of your room includes a water closet, lots of storage for clothes (keep your mess hidden with the curtains that add to the aesthetic of the space), 2 large mirrors over a super large vanity, a large rain shower, and a full length mirror hidden in the sliding door. And there's more behind the door…one of the coolest style of beds I've ever seen in a hotel. Theres a great window seat to sit and read, catch a view of outside, get work done, or even enjoy breakfast. It reminded me of a great little breakfast nook. I couldn't believe both of these were in our room, and there was still so much space. Finally, the goodies – I am talking about the bar cart area. An on-brand red Smeg refrigerator filled with cold refreshments, lots of delicious snacks to pick from whether you crave salty or sweet. And the best part – the coffee set up. Unlike any other hotel, this has the famous drip coffee right in your room – all tools included. If I could give this room a 6 out of 5, I definitely would!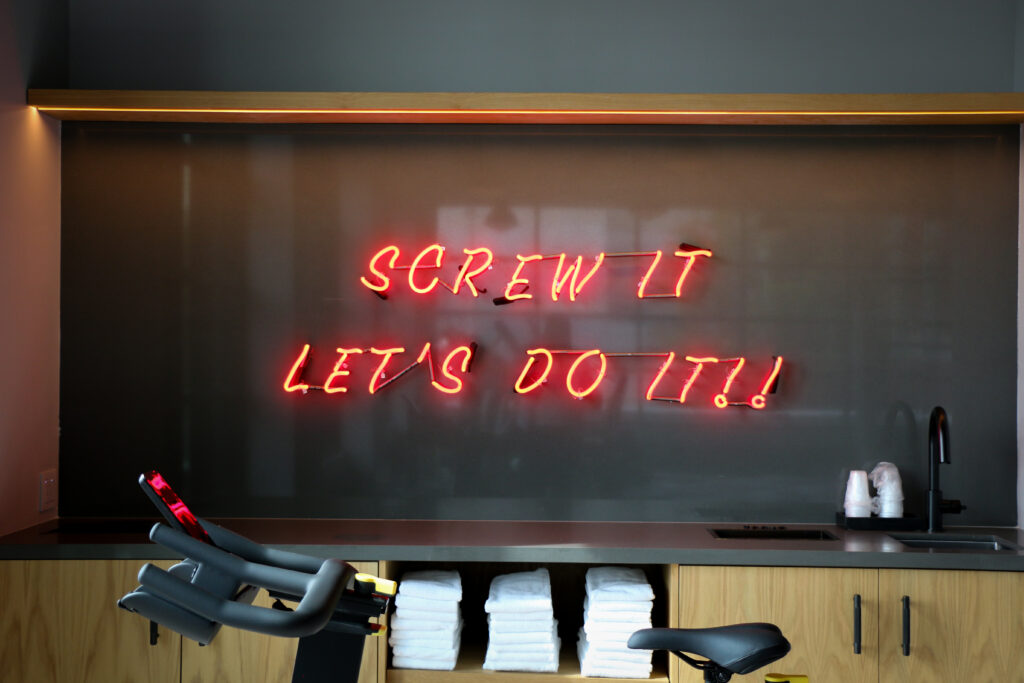 The Amenities: Believe it or not, there's still more to this property! Lots of good things on the main floor, but there's even more exciting things all the way at the top. There is a resort style rooftop with a double sided bar, cabanas, infinity pool, and INCREDIBLE views of Nashville. The perfect spot to relax or live it up. It really caters to both. If you need to sweat out all of the fun from the night before, there's a top of the line gym. There's so much right on property that it's hard to leave. The perfect spot for a little staycation. I say 5 out of 5 for the amenities.
The Food & Beverage: You already know about the coffee shop downstairs with laughing man coffee, all the breakfast bites, and plenty of snacks. There's also the Common Club, a multipurpose lounge space that functions as a moody bar, a great space for food, and a chill work spot. There's also the Pool Club, the rooftop and bar. We actually had dinner here one night, and enjoyed some sweet drinks alongside a selection of sliders and dips. We hear they have a really fun brunch party as well – lots of drinks and DJ included. We give the food and beverage on property a 4 out 5.
The Service: Like the rest of the property, there was not a beat missed when it came to service. We had a special welcome amenity to help us get the celebrations started for Grant's birthday. The cookies were the perfect touch – we're both HUGE cookie lovers. They even catered to Maverick! He got all set up with a bed, bowls, and a little treat. One of the things that stood out to us the entire stay was how friendly the staff were. Whether behind the desk, walking around the property, or helping guests in and out of cars, everyone was always doing it with a smile and genuine good spirit. We loved that! It gave the hotel that little extra dash of southern charm. Service definitely gets a 5 out of 5.
I don't know that I can find one bad thing to say about Virgin Hotels Nashville. Our experience was truly fun, exciting, and full of things to do in a beautiful space. I'm glad we got to experience it early on before it becomes Nashville's must-stay property. It's definitely on its way there! Got a bigger party traveling with you or just want to ball out? Y'all have to head over to their website and check out those suites. Talk about living the suite life! Check out those and book your stay here.