The moment we got the invite for glamping at a ranch, I was all on board! I know that may be hard to believe, but I love experiences with a twist. Up to this point, I had never been glamping and I definitely hadn't spent any time on a ranch. Looking at the Westgate River Ranch instagram I knew that I would be in for an experience like no other! Located an hours drive from Orlando, Florida, Westgate's River Ranch helps you disconnect and enjoy a true experience. Grab your cowboy hat and your boots. It's time to show you what this ranch is all about!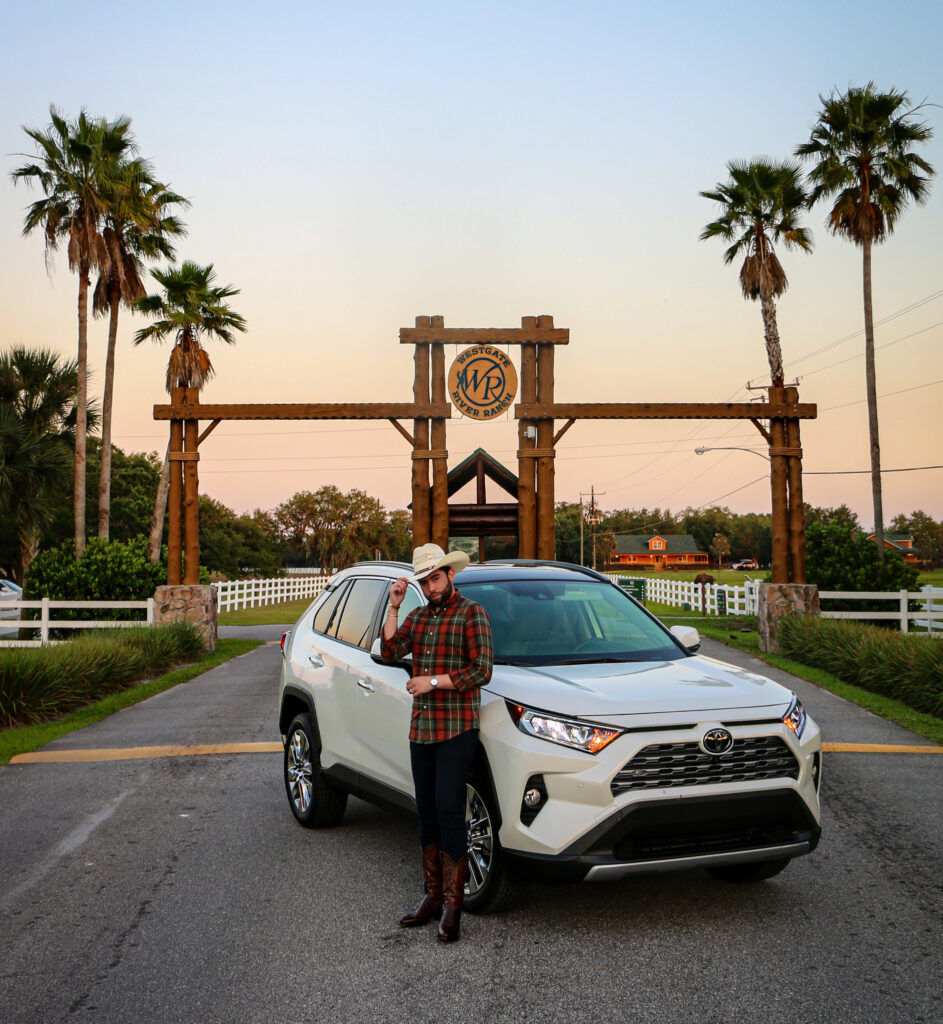 ACCOMMODATIONS:
Yes, you must start with getting that hero shot at the ranch. As you make your way to check in, you'll be greeted by horses, buffalo, and a sneak peek at some of the glamping accommodations the ranch has to offer. Upon checking in for your glamping experience, you will receive keys to your own golf cart for getting around the property. You get to lose the car for the week and enjoy waving at strangers who become friends or kids that want to play together. It's such a fun detail to this place. For this trip, we got to experience glamping through the Luxury Glamping Tents.
Can we just take a minute for these accommodations?! This is LUXURY y'all. We were WOWed the moment we stepped into our tent. It truly has everything you need – a kitchenette, dining room table, couch, double vanity sinks, water closet, a stone bathroom – there was even a fireplace! I loved having our own bathroom accommodations. Also, I know it's florida and so does the resort. Each tent has fans and climate control – praise for the AC! We were so comfortable in these accommodations and it was great to actually get to relax. You really feel away from it all.
Before we move on, I have to tell y'all about the other accommodations available. Mostly because I'm ready to go back and experience these for myself. The ranch offers three other types of clamping experiences – a luxe wagon, a luxe teepee and glamping tents. The teepee is on my list – do y'all see that full on fireplace in there?! My kind of teepee! Did I mention the design and decor of this place? So good! Makes me want to book a ticket and go back right now. On top of these beautiful luxury accommodations, the ranch does offer even more ways to stay and experience. From regular camping to cabins, cottages, RV camping and lodge rooms. You can check them all out here.
FOOD, FOOD, FOOD:
Y'all already know FOOD is incredibly important on vacation. Those vacation calories don't count so you want to have a feast at every meal. And guess what?! These meals are just that! The glamping accommodations have your meals delivered right to your door in a cute picnic basket. Yes, that even includes your morning coffee! Walking out to your porch for hot coffee to start your day surrounded by all the natural beauty is AMAZING! These meals are perfect for two or a whole family. You can see how we created a beautiful spread for some our fellow campers. I should also mention that these meals are definitely above par to what you might consider "in-room dining" if you will. From cuban sandwiches to a Mexican fiesta and all types of breakfast goodies. We had delicious spreads our entire trip!
That's not all though – there's more food! On our first night we were treated to a family style dinner at the ranch's smokehouse – driving up on the golf cart, the smell had us salivating before walking in the door! The location of the smokehouse right on the water is also awesome – gives you a sneak peek at some of the activities like airboat rides. The River Ranch Saloon is also a fun place to stop at with a full bar. This was my first saloon experience – line dancing lessons and all. The ranch is also perfect for reunions, company parties, and events – we got an inside look at their capabilities with a low country boil and a delicious dinner activated with lots of stations – including fresh flown in lobster. Their chefs and catering team really treated us to lots of flavors and savory food. For any and all other food needs – including an on site Starbucks.
THE EXPERIENCE:
Here comes the fun part! There is soooo much to do at Westgate River Ranch. Of course, I came prepared with outfits for all the activities. Can you believe there are over 25 different activities and experiences for you and your family or friends to enjoy?! Let's see what fun we got into.
First things first – there are so many amazing animals at the ranch that you're definitely going to want to see. Look at those little babies too – they're precious! I was so excited for our very first activity – horseback riding. These beautiful horses take you around the property and give you a great idea of the land. Plus, its the perfect time to get your cowboy gear on – don't worry if you forgot yours, you can pick some up at the onsite western store. ! Right after we took on the archery range and the trap & skeet range. Believe it or not, I actually took archery during middle school and have gone skeet shooting before. I was definitely a little rusty on both, but they were such a blast to do again.
Over the next few days we participate din some other fun activities that could only happen in Florida. The first, an airboat ride that took us through some of the beautiful protected lands of the ranch. The most fun part was keeping your eyes pealed for those alligators. We saw several during our 40-minute ride. Next, we went on a swamp buggy ride adventure. I had no idea at all what to expect much less did I know what these buggies were like. Our driver had a great sense of humor and kept us all on our toes for a fun adventure. Then, we were treated to a good ole hay ride around the property. Live music music and the most delicious dinner included! But we obviously couldn't leave without attending the main attraction – the Westgate Rodeo!
Let me tell yall – this was my first rodeo… and what a suspenseful time! We got to see real cowboys and cowgirls do their thing! From horses to bulls, and live performers. This was a whole production! There is so much skill in every single one of the activities shown during the rodeo, but there is also something about the rituals of rodeo that make it a must attend event! The afterparty in the streets isn't too bad either! Yes, there's something for all ages. All I can say is, I left it all on the dance floor that night haha.
To think that this is only a snippet of everything available at Westgate River Ranch & Resort is wild to think about. There is SO MUCH MORE. It's a place where there is truly something for everyone. I never knew I would say, "I'm ready to go back to the dude ranch." Here we are and I'm ready to go back! I want to do some of the other activities and check out the other accommodations. Are you ready to get away and live out your best western life? Check out their site for more information and book your trip now!