Today kicks off Charleston Restaurant Week! This is one of the few times of the year that restaurants in Charleston open their doors with some incredible specials to enjoy their savory menus. Can you believe there are over 100 restaurants involved this time around?! I am usually out of town for NYFW and have no time to check out these awesome specials. As many of you know, I just started a new job that has kept me in Charleston. While I may be a little sad to miss my first NYFW season in some time, I am excited to not be on a fashion week diet and to enjoy lots of delicious food! There are so many on my list to check out before its all over on September 16th. As there are many to choose from, I focused on the Peninsula's dinner options and gave you a little insight into their menus, along with some insider tips. Take notes because there are only 12 days to enjoy it all. Tag me in your posts or let me know which you enjoy the most! I'll be sharing my own as I partake on these delicious dishes!
1Kept is located inside the Renaissance Hotel on the historic Wentworth street. It brings a comfortable and sophisticated American dining experience with fresh ingredients and southern influence. The moment one steps in their doors, you are captivated by the decor and detail. Start your evening with the Crispy Brussels and make someone else at your table order the Pork Meatballs (two words: goat cheese). Follow those up with the Chicken Schnitzel & Herb Spätzle – only place in town to try it without having to travel miles away. End the evening with the Seasonal Crumble for a sweet finish! The 3 course dinner options are available for $35.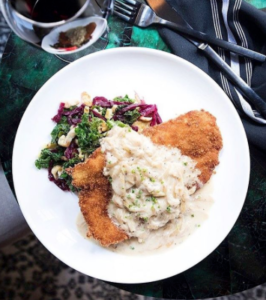 5Church is one of my absolute favorites! Located off the historic market of Charleston and presents American focused dishes inside a historic church of Charleston. The design, hand painted murals and installation within are cutting edge. First, you will definitely want to begin by adding on the refined one pairing to your dinner. The 3 course pairing is only $25 and with their impeccable wine list, you're definitely missing out by not adding this to your dinner. Begin your dinner with the Korean BBQ Cauliflower, continue with the Swordfish (love the anise clam broth), and wrap up your meal with the Mocca d'Or, Hazelnut, & Chocolate Mousse. Their select menu is full of fresh and local ingredients that can be yours at 3 courses for $40.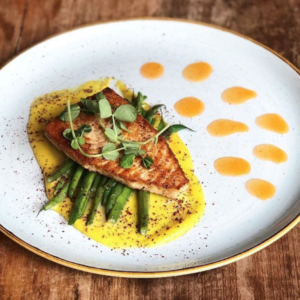 Anson Restaurant takes the best of what historic Charleston's season have to offer and crafts them into innovative turns on traditional Southern cuisine. For almost three decades the historic restaurant has welcomed guest to their beautiful space. During restaurant week you must enjoy their Oyster Rockefeller, the Filet Mignon with Cherry Demi Glace (the fried potato cake is quite tasty), and the Chocolate Crème Brûlée. Their service is exceptional and all of these delicious dishes among others can be enjoyed at just $40 for 3 courses.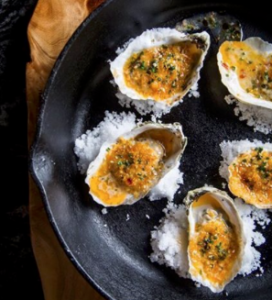 Balao Seafood is Charleston's newest and unexpected rooftop. Located above Burwells on the market with a local and fresh menu that is constantly changing offers the freshest seafood options during restaurant week. Plus, the perfect setting to enjoy the weather and views is quite enjoyable. My picks: the ceviche appetizer (my favorite I've had this season), Chili Lime Shrimp or the Fish Tacos as the main course and finally the Passion Fruit & Cream Cheesecake. This fresh menu and other options can be yours at 3 courses for $30.
The Barbadoes Room is probably one of Charleston's best kept secret dining rooms inside the Mills House Hotel. A few months ago I enjoyed a slew of drinks and dishes with outstanding service and execution. Their restaurant week menu features a wide selection of their best dishes making it easy for everyone in your party to enjoy something different. My picks include: the Wadmalaw Island Tomato Gazpacho or the Ricotta & Orange Agnolotti as a starter, the Seared Local Fish or the Local Shrimp Garganelli as a main option, and for dessert enjoy the Bread Pudding or Salted Caramel Chocolate Cake. The variety allows for multiple visits during the special to enjoy the 3 courses for $30.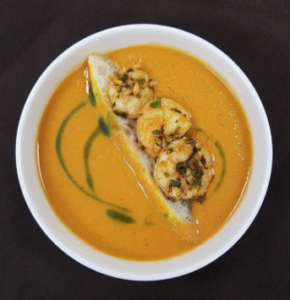 Circa 1886 is tucked away in the original carriage house of the Wentworth Mansion and adds a romantic touch to the classic Lowcountry cuisine. The charming architectural details are conversation starters as one begins to enjoy the evening with the Buttermilk Fried Artichoke Heart. Several of their menu options can be prepared Gluten Free as noted on the menu – for example, my choice for main course, the Piedmontese Beef. As a sweet finish, I could not decide between the Strawberry Shortcake or the Banana Split Ice Cream Sandwich – so order both! The course options are just 3 for $45. This year, Charleston Restaurant Week is partnering with Charleston Beer Week. Just like their food, they offer a great selection of beers and wine that can be paired with each course for an additional $60-$70.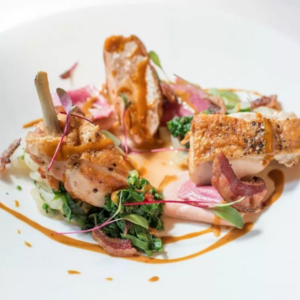 Élevé provides a secret garden setting on the rooftop of the Grand Bohemian hotel with exquisite decor and views of the historic skyline. The French-inspired dishes use fresh herbs and spices to create a refreshing and unexpected menu. Their menu selections boast the options of 3 courses for $40. My picks: 1st course – Grilled Peach Salad, 2nd course – Chicken Roulade and 3rd course – Peanut Butter Jelly Bar.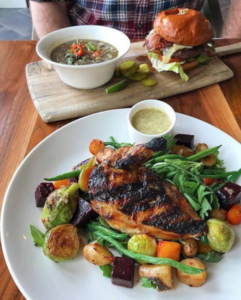 The Establishment is one of Charleston's latest ventures that showcases incredible cooking techniques and freshness of the well balanced dishes they offer. I recently enjoyed several of their dishes for a birthday celebration and was quite blown away by the joy every bite brought to my palate. My picks: from the Taste – the beef (the deckle tataki is amazing), from the Savor – the snapper (the salsa verde is tasty) and from Delight – the Ice Cream & Sorbet. Their option of 3 courses is available for $40.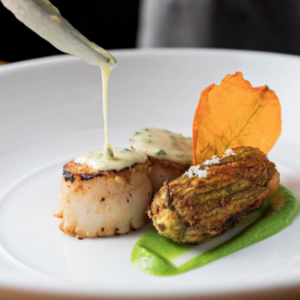 Félix is what I like to call my neighborhood bar and restaurant with creative cocktails and small plates that all offer a flair of today's Paris. Upon entering the restaurant, one believes to of entered one of Paris' chic restaurants. As I am pretty familiar with the menu, I must recommend a few of my favorites to indulge in. Begin your Parisian experience with the Torsades, the Lobster Deviled Eggs, or the Fromage Fort. The main plate option should be between the Croque Monsieur, the Gnocchi à la Grand-Mère, or the Petit Steak-Frites. Finish off your Parisian experience with my favorite – the Apple Trifle or even the Cognac Milkshake. They are also offering a selection of local craft pints in partnership with Charleston Beer Week, but I also encourage the boozy draft cocktails. The whole experience can be yours for $35 for all 3 courses.
Fuji Sushi Bar & Grill – King Street is the newest addition to the upper King Street neighborhood. An intimate and moody dining space with an airy rooftop. Their restaurant week menu gives one a sneak peek at their location's expansive menu. My picks: 1st course: Bomb Chicken Bites (the surprisingly perfect amount of kick in every bite), 2nd course: the Classic Hibachi with fried rice (the chicken and vegetables are my favorite) and 3rd course: the Mochi Sampler. At 3 courses for $30, its the best for authentic Japanese cuisine.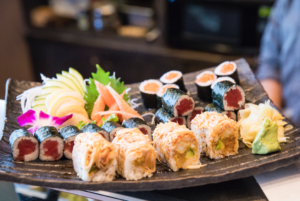 Halls Chophouse is an absolute MUST during Charleston Restaurant week. If you've followed me for a while, you know I frequent the steakhouse and embarrass my friends by standing on a chair to get the gram. Billy is used to it by now haha. The restaurant week deal for here is a STEAL. Like, idc what you have going on – make time. Heres why: 3 courses for $55. Yes, $55. If you know Halls, you know you cant beat that! My picks: EAT IT ALL, kidding, but not really – First Course: Simple Greens Salad, Second Course: 8oz (of the best you've ever had) Filet Mignon paired with creamed corn and low country collard greens. Also, ADD the accompaniments – my advice: Black Truffle Butter, Creamy Gorgonzola, and the Sautéed Mushrooms & Onions. SPLURGE and add the Broiled Lobster Tail for a hearty dinner, Third Course: be surprised by the Chef's Nightly Dessert Feature. The rest of the Restaurant Week menu is available here. Afterwards, grab some bubbly and stick around at the bar – you never know who you might run into. A Halls night is one you'll never forget!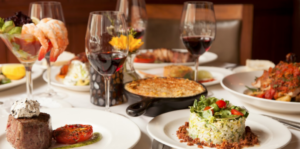 Henrietta's is located inside the juxtaposition of past and present that is the Dewberry Hotel. The traditional French brasserie draws influence from around the globe with a vision of "Southern Reimagined." The timeless dishes are being offered at 3 courses for $45. My picks: First Course – Mushroom & Onion Tart, Second Course – Wood Grilled Poulet Rouge Chicken Breast, Third Course – Peach Cobbler.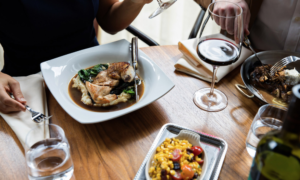 High Cotton boasts its Lowcountry living experience and Charleston hospitality through its stylish dining room and finest quality ingredients on their menu. As a part of the Hall's Management Group, one can expect exceptional service and attention to detail. My picks: Appetizer – Rhode Island Fried Calamari, Entree – Faroe Islands Salmon, and the Chef's Nightly Dessert Selections are sure to be the perfect ending. The 3 courses are available at just $45. I recommend the Wine Pairings at $25 to accompany the menu. In addition, as sides you should enjoy the Whipped Yukon Potatoes, the Parmesan Herb Risotto, and the Crispy Brussel Sprouts with Smoked Paprika Aioli.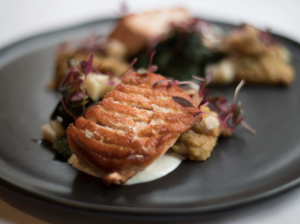 Indaco serves up a large offering from their rustic Italian menu for restaurant week. There is so much goodness to choose from, you will want to check them out a second of third time during the course of restaurant week. From their wood-fired pizza to their hand-crafted pastas and everything in between, yes, I'm talking about their housemate salami and cured sausages. YUM. Since there is so much to pick from, I'm sharing my favorites from each section.My Picks: Course 1 is either an Antipasti or Pizza – Fried Artichokes, Polpette (I always order these – no questions asked), Sausage Pizza, or the Margherita Pizza. Course 2 is either Pasta or Piatti (definitely sharable or family style) – Roasted Half Chicken, Vegetable Plate, Bucatini Verde, or Ricotta Cavatelli. The final Course is Dessert – Ricotta Fritters, Peach & Ricotta Upside Down Cake, or any of the House Scoops.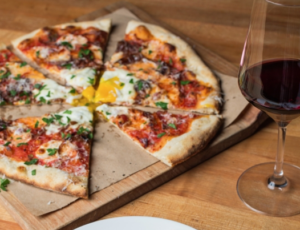 Le Farfalle is located off King Street on Beaufain where you'll run right into their incredible courtyard. Enjoy dinner in their tree covered courtyard or inside their minimal and classic dinning room. My Picks: First Course – Polpette all Siciliana, Second Course – Rigatoni Verde, Third Course – Fried Chicken Piccata. All three courses are just $40.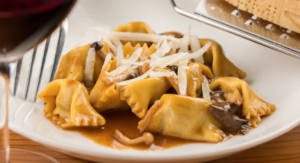 Lowcountry Bistro can be found in the Charleston Market and just steps away from the water. I love going to brunch here, but their lunch are just is just as delicious. During dinner, dine inside their two story southern living room or get a taste of charleston by sitting outside on their second floor porch with views of the market. Their offering is 2 courses for $20. My Picks: First Course – Fried Green Tomatoes and Second Course – Market Jambalaya.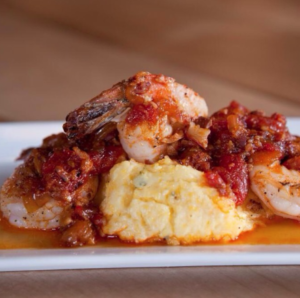 Parcel 32 is my obsession since its opening. I can't get enough of their restaurant or menu. The restaurant is inspired by culinary and craftsman tradition of Charleston. They also celebrate the best farmers and producers for fresh ingredients and ideas to bring together the old and the new in both their menu and their atmosphere. One can not go wrong with any of the items on the menu, but I have made some decisions from their selected menu. My Picks: First Course – Pecan Meal Hush Puppies (the pimento cheese is a great surprise). Second Course – Pan Roasted Sumac Day Boat Catch. Third Course – Banana Beignets. Most of their selections can be gluten free or vegetarian. The delicious menu is available at 3 courses for $40.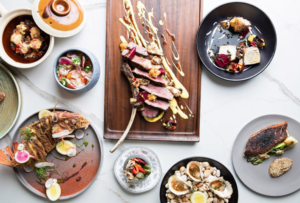 Peninsula Grill definitely pulls out all of the stops when it comes to it's dining experience. The main dining room boasts a champagne bar and velvet lined walls while the courtyard dining features a moonlit garden and carriage lanterns that are traditionally lit every night at dusk. Their restaurant week selection features nothing but the best for one's tasting only at 3 courses for $45. My Picks: First Course – Escargot & Grits. Second Course – Pan Seared Sea Scallops. Third Course – Cookies & Cream Mousse. An obvious choice for the human Cookie Monster to end a meal.
Pour Taproom is located on the 9th floor of the Historic District Hyatt and serves as a rooftop bar and restaurant. They offer over 70 craft beers, wine, cocktails, ciders and a menu of good eats. Their good eats selections are available at 3 courses for $25. My Picks: Appetizers – Seared Shrimp. Entrees – Beer Braised Pork Sliders. Definitely recommend adding the side of crispy shoestring fries. Dessert – Dark Chocolate Dipping Fondue. They are also offering $5 select local pints in partnership with Charleston Beer Week.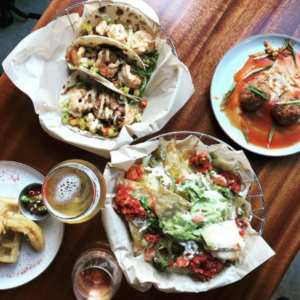 Revival has recently opened its doors as a modern Southern Eatery. Their vision is a modern, yet approachable take on "what South Carolina tastes like." They are reviving South Carolina's past and some of the ingredients. I am excited to try their 3 courses for $40 special as it will be my first experience with their restaurant. My Picks: Smaller Plates – Hearts of Palmetto. Larger Plates – Lowcountry Pirlou. After Dinner – SC Peach Clafoutis.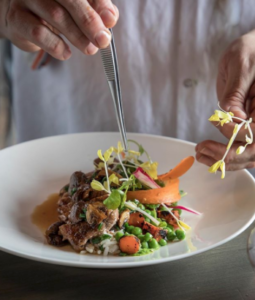 Rutledge Cab Co. is located in Charleston's Wagner Terrace neighborhood where many of their signature menu items are cooked over Charleston's only indoor charcoal grill. The former convenience store / gas station has been transformed to a space that will provide the enhanced flavors and characteristics that only char-grilling offers. Their course selections are available at 3 for $25. My Picks: Appetizer – Crispy Deviled Crab Fritters. Entrees – Croque Madame Burger. Dessert – Chocolate Cake.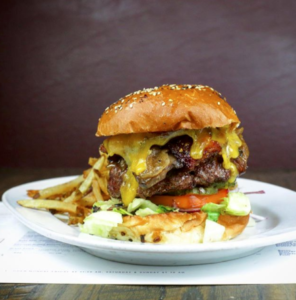 SOL Southwest Kitchen & Tequila Bar is located off upper King on Ann Street and features a fun outside patio. Their inside/outside bar is perfect place to showcase their bold Southwest flavors and "just juiced"cocktails. Their restaurant week selections offer two options: 3 Courses for $20 or 3 Courses for $30. My Picks from their $20 selections: Appetizer – SOL Duo. Entree – Margarita Shrimp Tacos. Dessert – Caramel Apple Empanada. My Picks from their $30 selections: Appetizer – Charred Corn & Cotija Guacamole. Entree – Southwest Tuna or Lobster Enchiladas. Dessert – Caramel Apple Empanada.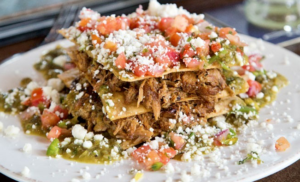 Stars Rooftop & Grill Room is a stunning 1930's style grill room with a gorgeous walnut bar at the center that serves signature Caroline Cuisine. It houses the only rooftop bar in Charleston with 360 degree views. Their 3 courses for $40 selections during restaurant week will give you a great taste of their upscale dishes. My Picks: First Course – Lowcountry Bangers & Grits. Second Course – Charleston Wreckfish. Third Course – SC Peach Bread pudding.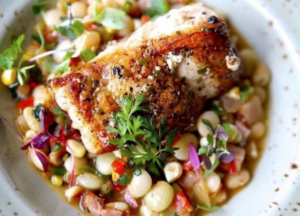 Swamp Fox Restaurant & Bar is named after Revolutionary War, General Francis Marion. The restaurant, which is located inside the Francis Marion Hotel, features classic Southern Cuisine with a touch of history. Their selections are available for 3 courses at $30. My Picks: Appetizer – Swordfish Ceviche. Entree – Braised Beef Short Rib Gnocchi. Dessert – Key Lime Meringue Tart.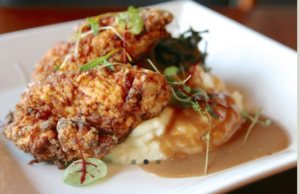 The Watch: Rooftop Kitchen & Spirits is located at the tallest point of the Restoration Hotel with a breathtaking panorama of Charleston's architectural history. The farm to table restaurant celebrates the bounty of local ingredients and market fresh seafood. The community-based New American cuisine can be enjoyed in their relaxed and refined setting. Enjoy their selections up in the sky during Charleston Restaurant Week at 3 Courses for $30. My Picks: Starters – Seared New England Scallops. Entree – The Watch Burger. Dessert – Lemon Panna Cotta.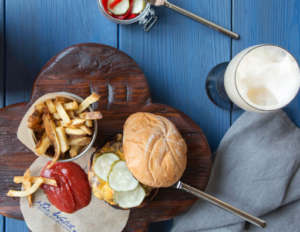 So, what are you waiting for?! Check out the rest of the participating restaurants on the Charleston Restaurant Week site here and plan your meals through the 12th of September. If you're like me, you'll be eating out the next 36 meals to enjoy all of the specials Charleston has to offer ?