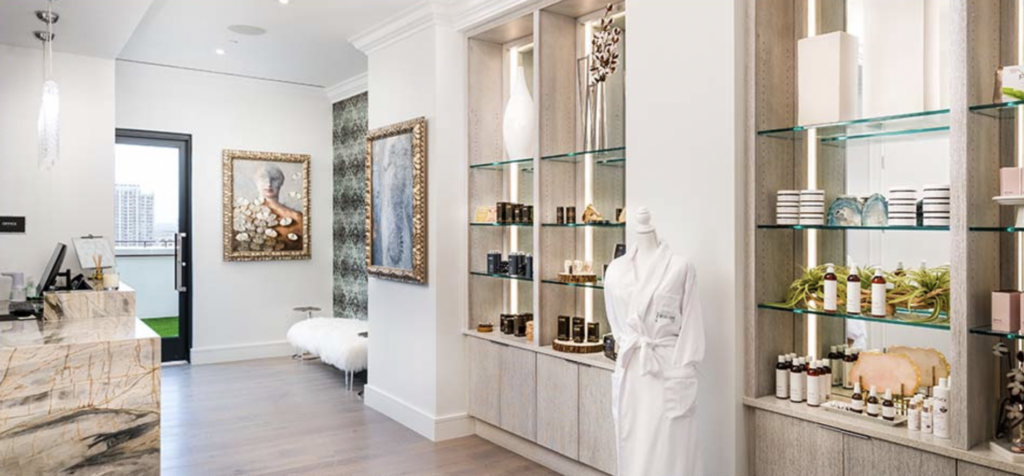 Relaxation and self-care has been a big focus for Grant and I. We tend to become workaholics and forget our bodies need some rest. We forget how good some R&R really is. When planning this trip, we knew we really wanted to get a massage and treat ourselves. On our second day in Charlotte, NC, we kicked off the day with just that. After slipping into our robes, we took the elevator up a few floors to enter into a relaxing and serene space – The Poseidon Spa.
The Poseidon Spa showed us around the main lobby and educated us on the different lines they carry. These products allow guests to take a piece of the spa into their own home. From a mens specific line to products that are perfect for an expecting mother. When we visited the spa, my sister just days away from giving birth, so we found several items to take back to her! We then met our masseuses and learned more about the treatments they set up for us.
We found out we would receive a 60 minute couples massage. Then we learned about some of the various ad-ons that the spa offers to enhance your relaxing experience. We were like kids in a candy store and just said yes to it all. The massage came with essential oils to start, enjoy during, and end your massage with. I picked to start with a relaxing oil, then one to focus on the massage, and finally an energy one for the end of the massage – to help pick me back up for the rest of the day. We each added an exfoliation brush, a body butter, and a hydrating mask for our face. They also used a jade roller to really get those oils into your face. Pro Tip: splurge on the ad ons – they were definitely worth it!
After our relaxing massages, we were then treated to a little bubbly and relaxing time on the spa's terrace. We were able to lay out and enjoy the views of Uptown Charlotte. I can't thank the Poseidon Spa enough for such a luxurious experience. We will definitely be back to try out more of the offerings on the menu. I want to go back and try some of their offerings specifically for your face. Grant will definitely get another massage. Are you ready to escape the hustle and bustle of the Queen City? Book your treatment now.