Going up…34 floors up that is. I let go of my fear of heights to experience a one of a kind dining experience at Bourbon & Steak. As you walk into the restaurant, you are taken aback by the 360 degree views. The Music city looks spectacular from the dining room. The flavors of each dish are definitely on par with the views. Also, any restaurant that brings out fries to start the evening is a winner in my book 😉
Our meal started with yummy booze cocktails and three different styles of fries and dips. These aren't your regular fries either – duck fat and nacho cheese are used to create these delicious combos. Then we moved on to some starters. As we waited on our drinks, we spotted the wedge salad and Grant had to have it. The bacon and pork rind definitely had something to do with him choosing this. On the other hand, I chose one of Chef Michael Mina's signature dishes – Michael's Tuna Tartare. The asian pear and habanero made this dish stand out from other tartares.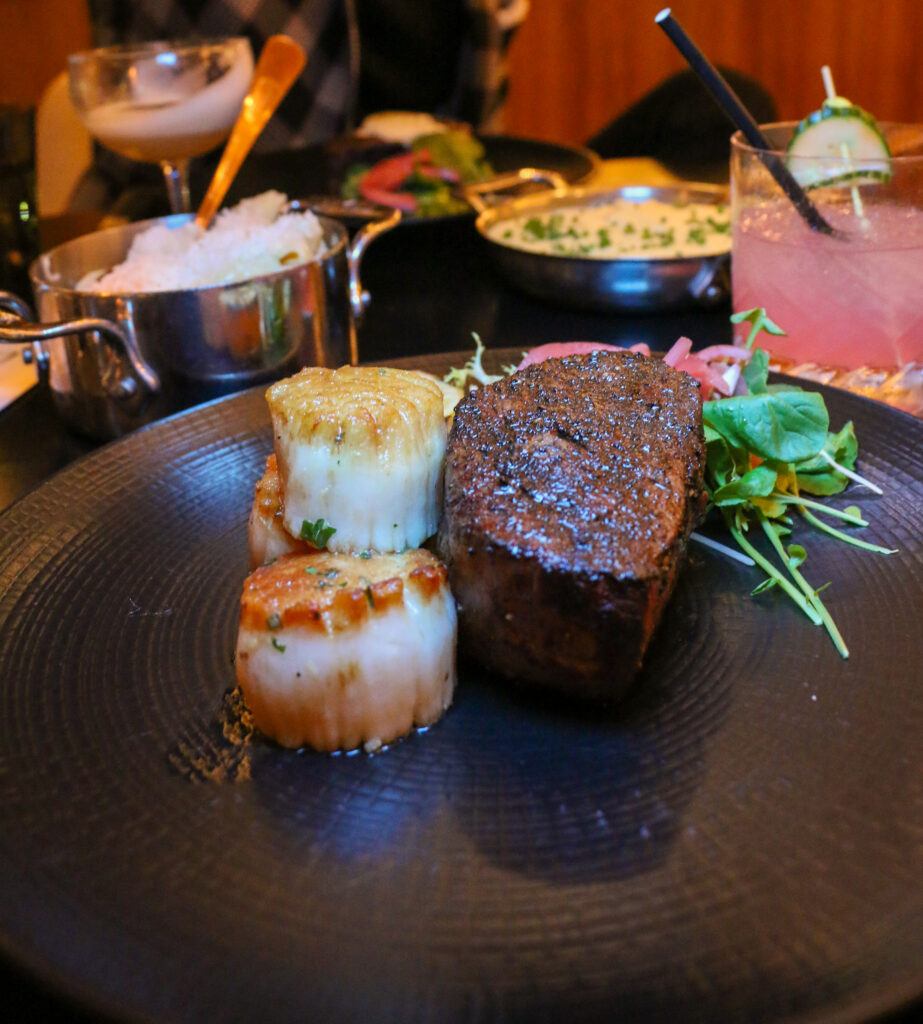 As entrees we both chose items from the wood-fired grill. We actually both ordered the same thing and who wouldn't with such a fantastic array of organic steaks. We switched it up with our accompaniments – I went with scallops and Grant had the black truffle butter. There's nothing like a steak that is perfectly seasoned and melts in your mouth. The cherry on top for this portion of our meal was having the sommelier spend some time with us to make sure Grant found a wine that he enjoyed and would pair well with our steak. If you've missed it, Grant's pretty new to wine and he's still getting used to all of it. After several tastings, we found one to have several glasses of haha. We also shared some delicious market sides. I had to get in the truffle action with the black truffle mac and cheese. Meanwhile, Grant had one market side really call his name and it contained his favorite "vegetable." The entire cast iron pan of the potato puree, lots of butter was consumed. I barely got to try a bite haha.
We finished the evening with a show and dessert. The smoke and mirror presentation for our Smoked Valrhona Chocolate S'more dessert was so cool and prepared you with visuals and smells for your first bite. The Bourbon & Steak team also treated Grant to a sweet birthday dessert. To finish our evening, we grabbed our drinks and headed outside to see the city and take in a moment before heading back to our room.
Bourbon & Steak stands out from any other steak house due to its service, attention to detail and quality, and overall ambience 36 stories up into the Nashville skyline. We will definitely be back and hope to maybe even host a great dinner for friends in one of the private rooms available. For now, you all have to check this fantastic restaurant out and let us know your thoughts. If you need anymore convincing, check out this gallery of the inside of the restaurant and then book here.