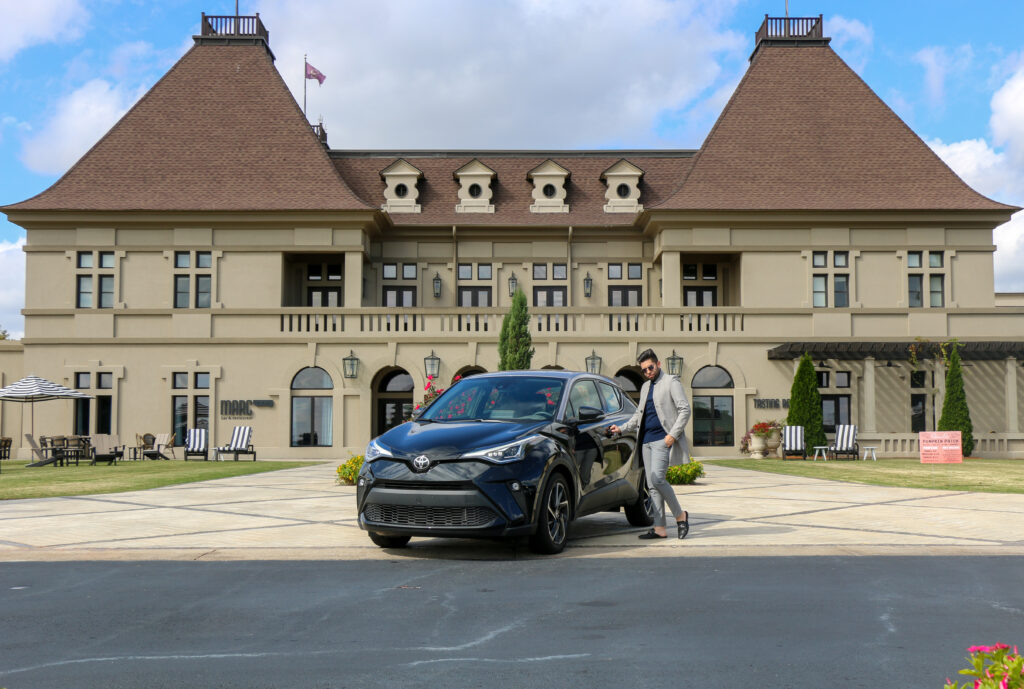 The next stop on our road trip took us a few hours away to a place we constantly sent pictures of back and forth to each other while dreaming of going. Chateau Elan is located outside of Atlanta, GA, and is nestled in between a great winery and golf course. This portion of our trip was really meant to get away, relax, discover, and enjoy. Boy did we enjoy! Can you guess how many glasses of wine were consumed during this trip?
Welcome: In a true winery fashion, we were greeted with champagne at check-in and a fresh charcuterie board with a hand written note in our room. Y'all know how I feel about hand written notes – it's the best forgotten touch. Our room faced the pool area and had a warm elevated rustic feel. We love the layout of the room with lots of lamps and mirrors to reflect the natural light. The headboard is definitely a moment – the large leather piece catches your eye from the moment you walk in. Before we knew it, Maverick was getting comfortable in the room. Grant's favorite part definitely had to be the bathroom – every room at Chateau Elan has a tub. It's no secret that Grant loves a bath. It was also perfect timing that we got a room with a tub because after all the driving around, Grant's back needed it! The bathroom also features a stand up shower and a large enough vanity for us to get ready together. I'll let you guess who always finishes getting ready first…
Le Petite Cafe: Each morning at Chateau Elan we started with coffee from Le Petite Cafe located in the lobby. The coffee shop makes the entire lobby smell delicious. The mini market is complete with cozy seating and fireplaces, work areas, al fresco seating, and even a little shop with so many goodies. The coffee truly hit right and allowed us to get lots of work done. They even treated little Maverick to some puppucinos. Funny thing is we had to pass the coffee shop to go out to potty and he always dragged when we walked by expecting another treat haha. Enjoy the tour of Chateau Elan via coffee cup above. 🙂
The Grand Hall: One of the coolest aspects of Chateau Elan is what I want to call the Grand Hall ( known as the atrium on the property). It offers several great places to work, a bar, restaurant, and a stunning light installation under the glass roof. We picked a fun little corner to get some work done and then grabbed lunch at the Versailles Restaurant & Bar – one of two food and beverage outlets steps away from your room. Let's talk about these spaces – fun, luxurious, and extremely unique! From the rounded booths to the floor to ceiling wood installation, its an experience like no other. Descending from the grand staircase to your table the space sets you up with an atmosphere to match your fantastic culinary experience. The menu is globally-influenced American cuisine featuring seafood and regional favorites. This quick bite was bursting with flavors, and is sure to satisfy every palette.
The Tasting Room: On one of the afternoons, we walked from the Inn through a part of the vineyard and to the Winery's Tasting Room. We chose the Chateau Wine Tastings and picked seven pours to try from an extensive list. An aspect that we truly enjoyed is that you have all the time in the world to enjoy each pour. It's such a leisurely activity and you can wander around or sit outside and enjoy. This was a superb experience for Grant who is learning to love wines. The staff was super friendly and super helpful. We especially loved talking to Mallory who was so helpful during our entire stay. I will recommend if you're doing the seven pour tasting, leave time for some food before heading back on the road. Those pours will have you feeling really good – haha.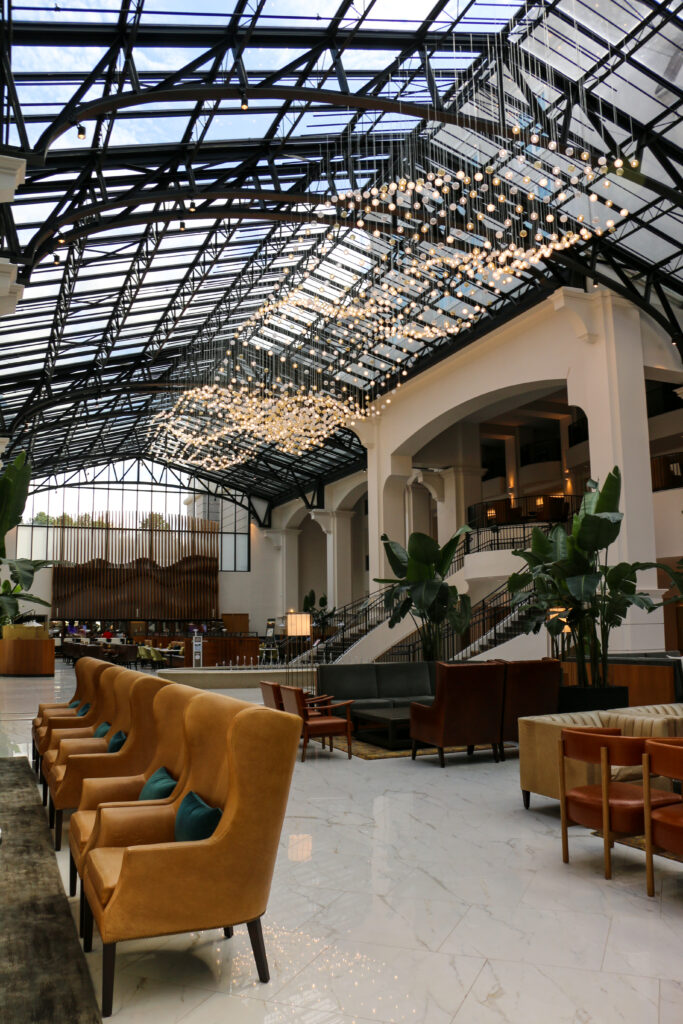 A Luxurious Escape: On our last evening at the property we also experienced fine dining at the Marc Restaurant on property – check out the food and experience here. If you've been searching for a worldly experience tucked away from the hustle and bustle of the real world, I truly suggest all the offerings of Chateau Elan. Its your time to escape alone, with a significant other, or a group of friends – book now.