There's nothing like a property with a worldly flair, especially one right in your back yard. For you Charlotteans this new property is a MUST. I promise you'll feel like you're out of Charlotte once you push through the revolving door. If you're traveling in the area for pleasure or business, you'll want to check out this property. It goes beyond being a hotel – it's a full-on experience.
After doing my research, I knew I wanted Grant's first trip to the Queen City to include the new Grand Bohemian Charlotte. The Uptown area of Charlotte has so much to offer, and is the perfect area to get a taste of Charlotte by car and on foot. As soon as you drive up to the property, you feel the modern, Argentinian influence through the vibrant colors and art. The lobby gives you a little tease to the fun that awaits upstairs. The furniture and art are both unique. Fun fact: the art featured around the property comes from the owner's personal collection. To us, this added such a unique touch to the property, and we enjoyed viewing parts of this grand collection during our stay. The lobby also offers a full-service Starbucks for all you coffee lovers. So grab a cup, and let's head up the elevator to see our remarkable accommodations.
The moody vibes continue upstairs into the hallways filled with lots or rich colors, unique art, and intricate light fixtures. The property offers six different accommodation configurations. We were treated to one of the beautiful suites at the property – the Park Corner Suite. This beautiful space featured a large living area, a large bathroom, and a separate large bedroom. Our room was flooded with natural light from all of the floor to ceiling windows. These provided great views from our suite including a local park, downtown Charlotte, and a little bit of the surrounding neighborhoods. It felt like we got a sky view of Charlotte's Uptown area. If you're someone who is all about the views – this property will not disappoint!
Our actual bedroom was quite large with its own sitting area, comfy bed, lots of storage, and a peep into the extra large bathroom. This room was definitely bigger than most hotel bedrooms. We loved having a little area to enjoy morning coffee and chat about our plans for the day. The bed was so comfortable, and during the night the blackout curtains made for an uninterrupted sleep. The suite also featured a separate living area with a couch, chair, desk, more storage, and coffee station which provides space to both get work done, and relax or entertain. We were blown away that this area was almost as big as our actual bed room – essentially both of these spaces are the size of two standard hotel rooms. The rooms are definitely designed to enjoy every inch. Believe it or not, that's not all. There's even more to see…
The large bathroom was just WOW. It's probably our favorite bathroom in a property to date. The bathroom connected to the bedroom via a fake window and ledge. This bathroom was what you expect to find in a master suite at a luxurious home. Lots of space and 3 separate areas: a black marble rain shower, large double vanity with great light and soaking tub, and a water closet. Let's just say I took extra long showers, and Grant used the tub both morning and night! He's 6'3 and this large soaking tub fit him comfortably. We loved all the space provided by the double vanity – its perfect for traveling with someone that has lots of products (Grant lol). It was also perfect for when we were both getting ready – we didn't have to fight for the mirror space or good light. If you're like me and you like to "move in" and spread out while traveling – this corner suite is for you!
On the upper floors you'll find a state of the art gym, spa, rooftop bar, and restaurant. The gym is large with great views to get your work out on. It's a space that has everything a gym buff needs to get a good work out while traveling. Yes, that includes you peloton lovers and you yogis. If you're more about relaxation (like me) or need a good massage after your workout, step across the hallway to the luxurious, Poseidon Spa. The spa offers a full-service menu of massages, body therapies, and other custom treatments from our exclusive collection. We got to experience this first hand – read about our luxurious and relaxing experience here. The 16th floor bar and restaurant was closed during our stay, but we heard great things about Buho from friends including their unique cocktail list and tapas offerings. One flip through their gallery will have you wanting to check out the place – the decor is topnotch. We'll definitely be back to try it out for ourselves!
If you're looking to venture out for a quick bite or meeting, you can take advantage of the property's house car, a brand new BMW X7. We actually took this vehicle out to a nearby rooftop for late-night drinks, and it was a great experience! 10/10 would recommend using this service at least once – just make sure to take care of your driver. And did you see how great it works for changing your outfit? lol. See what I'm talking about here.
On the main level there is even more to experience – another restaurant and a garden. You'll want to immerse your senses at Mico Restaurant – a glamorous venue featuring South American-inspired cuisine with Mediterranean influences. We enjoyed lots of deliciousness from here on our first night while reuniting with friends, check out how it went here. Another aspect that we will have to return to experience is The Bohemian Garden. I can tell this is the perfect area for a work lunch or early cocktail hour. Especially with all of this nicer weather, I'd definitely want to sit outside and enjoy the plaza.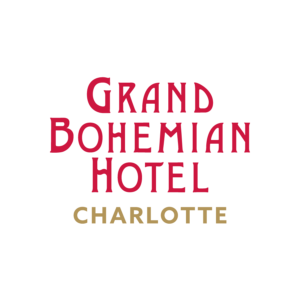 Final thoughts: The Grand Bohemian Hotel Charlotte is a great mix of that familiar, southern hospitality with the feel of being countries away. The staff treats you like family, if not better! They're there for you whatever you need to make your experience memorable for all the right reasons. This property will tingle your taste buds, stimulate your eyes, AND provide rest for your body – do yourself a favor and book your next stay with the Grand Bohemian Charlotte. We know we'll be back to enjoy even more of the property.