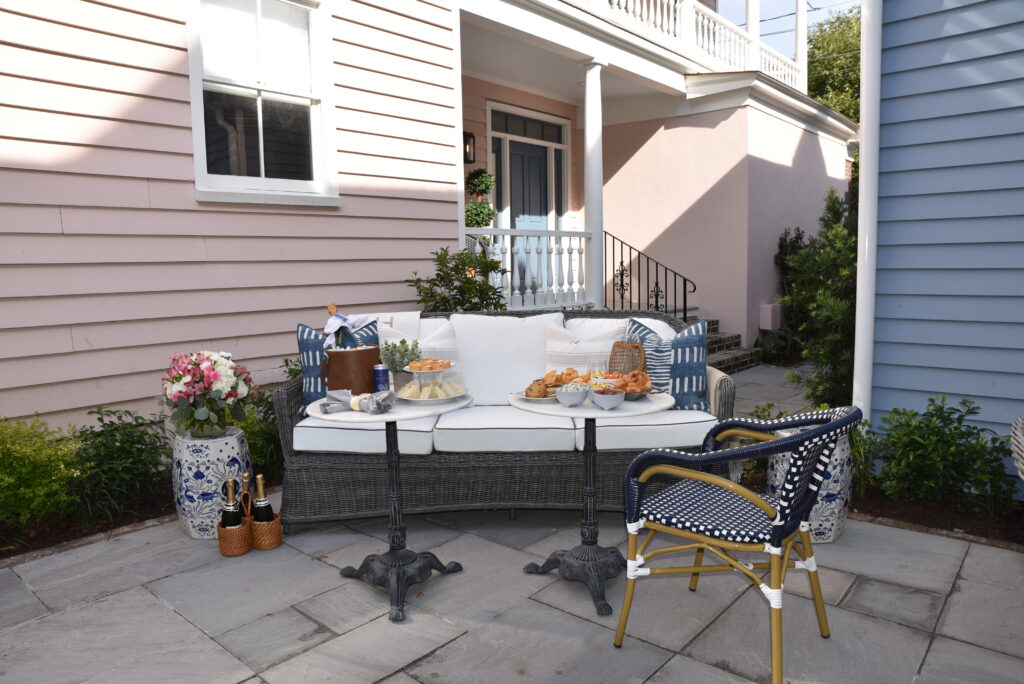 Y'all thought our accommodations were good?! Check out this courtyard right outside of our beautiful Guest House Charleston home. I knew we had to enjoy the beautiful patio in a fun way. Thanks to Hamby Catering, we were able to do just that with delicious food!
The beautiful space reminded me of a European courtyard so we knew a well styled "garden party" was the way to go! The ingredients for our garden party looked as good as the food. Hamby Catering set us up with a Summer Adventures package in a custom reusable bag.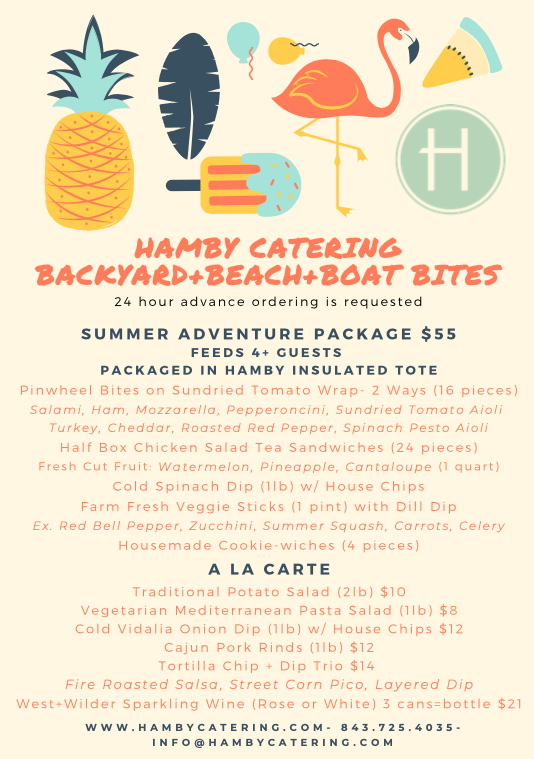 There were so many good options it was hard to narrow it down and pick our final menu. Check out how we dressed up our Summer Adventure package below:
Pinwheel Bites and Chicken Salad Tea Sandwiches paired with rosé in a can! This rosé was so crisp and easy to take on any adventure!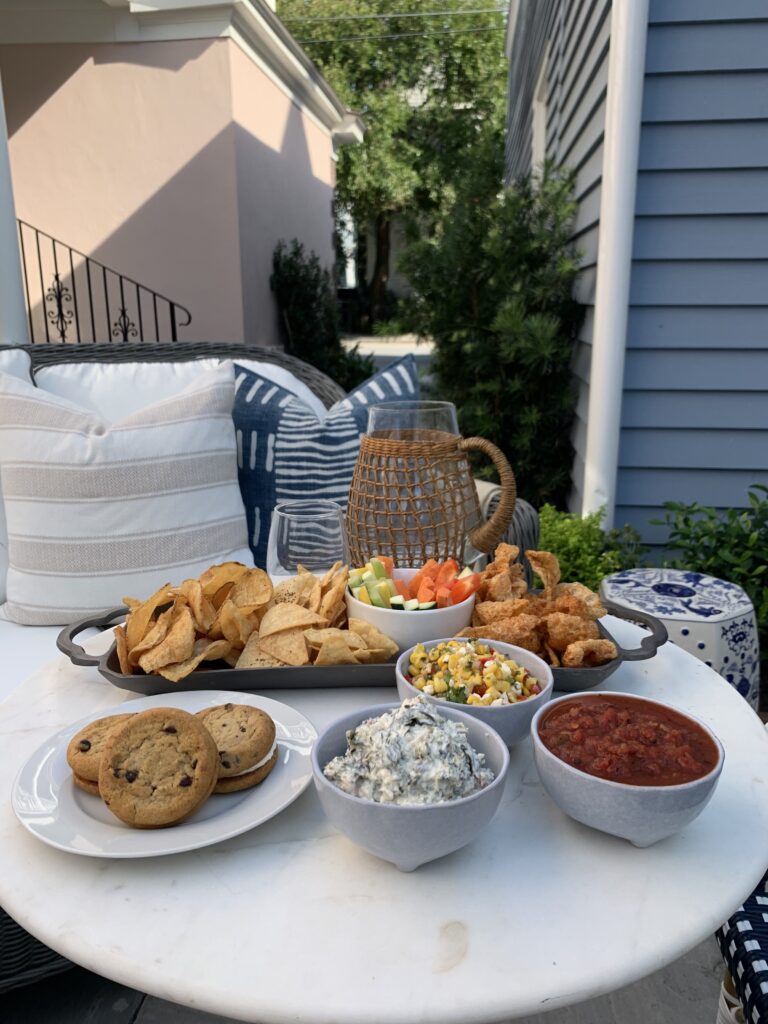 First of all, you all should be able to guess which item on this table were my absolute favorite…THE COOKIES! The dip trio and these chips were also the perfect snack! I can't lie, I skipped on the veggies and went straight for the pork rinds. I don't know when the last time I had some of these was, but YUM! There was also a 3 layer dip not show that was killer!
The images does not do this food justice! I wish I could let y'all taste every bite to show how good it was. There is definitely lots of love and passion that you can taste across every dish from Hamby. I've always said that Hamby Catering is way more than just selling you good food to make your life easier – they help create unforgettable dining experiences.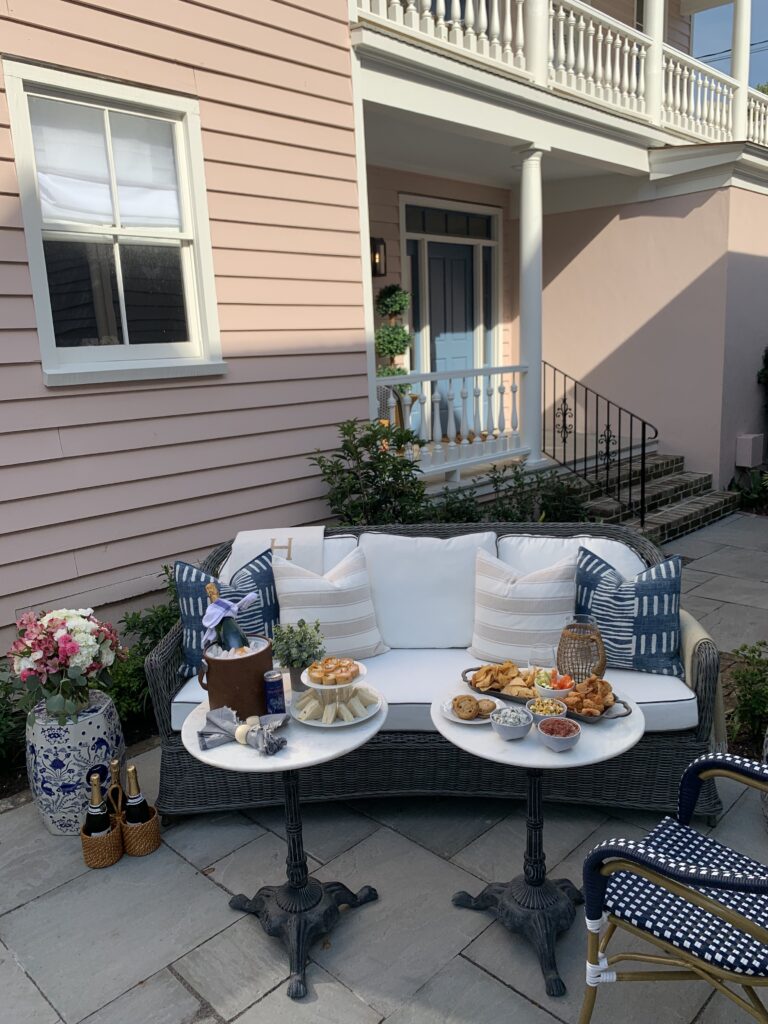 While our Summer Adventure package is no longer available, Hamby is always ahead of the game with the next best thing to accommodate every season. There are always great meal solutions, packages, and a la carte options available at the Hamby Market in West Ashley and their Mt. Pleasant location. You can't go wrong with any of the items on their menu! Want to make life even easier? Let the Hamby team pick for you! I promise you that you won't regret it and your tastebuds will thank you!
Check out Hamby Caterings current offerings on their website here.