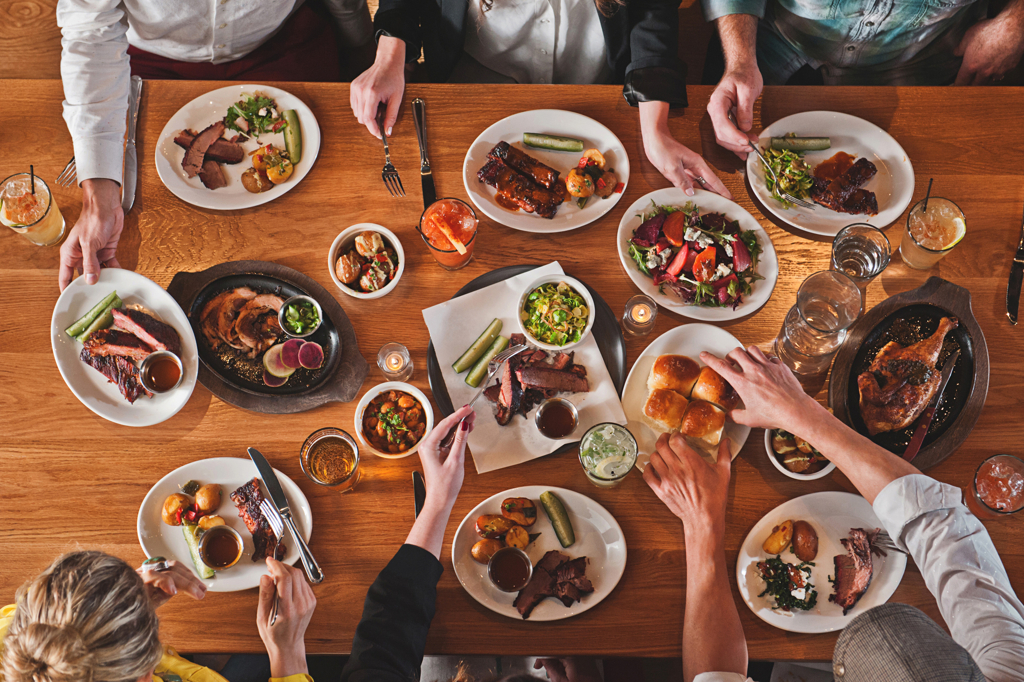 Today kicks off Charleston Restaurant Week! This is one of the few times of the year that restaurants in Charleston open their doors with some incredible deals to enjoy their savory menus. Can you believe there are over 140 restaurants involved this year?! Me trying to make it to every single one of them sounds like my schedule for NYFW next month haha. There are so many on my list to check out before its all over on January 21st. With so many to choose from, I decided to categorize mine by breakfast, lunch, and dinner and give you a little insight into their menus and some insider tips.
Lets start with Lunch:
82 Queen is on the lower end of King Street and my lunch picks for them is as Southern as it gets! Kick off with their Fried Green Tomatoes and then enjoy the Low Country Gumbo. I recommend sitting out on their beautiful patio – weather permitting. You can get both of these tasty courses for just $15! They are also offering a dinner menu – 3 courses for $40. 
Butcher & Bee is located in the up and coming NoMo neighborhood of Charleston. Their menu is full of Southern cuisine from local farmers – making them local and sustainable. Fire up your cravings from their menu starting at $15!
Le Farfalle is located off King Street on Beaufain where you'll run right into their incredible courtyard. Enjoy Brunch, Lunch or Dinner in their tree covered courtyard or inside their minimal and classic dinning room. The regional Italian menu will make it hard to choose just one time. Definitely a place that I would recommend visiting more than once during restaurant week. My picks – Starters: Whipped Ricotta (the carbs don't count with this dish. ITS A MUST), Main: Sorghum Anneloni. You can have both for just $20! Check out their other restaurant week offerings here.
Lowcountry Bistro can be found in the Charleston Market and just steps away from the water. I love going to brunch here, but their lunch is just is just as delicious. Dine inside their two story southern living room or get a taste of charleston by sitting outside on their second floor porch with views of the market. My picks – First Course: Flaming Oysters or Fried Green Tomatoes, Second Course: Shrimp & Grits or Chicken & Waffles. All the tasty options are available as 2 courses for $15 during lunch.
Charleston Harbor Fish House is located over the bridge at Patriots Point. Join them inside their dinning room to enjoy dinner and views of the Ravenel Bridge and the USS Yorktown. I recommend starting or ending with drinks on their rooftop bar – the views are incredible. My Picks – Starter: Hushpuppies, Main Course: Southern Fried Chicken Sandwich (got this 3 times while I stayed at the Beach Club property next door, its that good!), Dessert: always do the pie. 3 courses are just $24. Check out the rest of their options.
Poogan's Smokehouse located on Queen Street and sister to Poogan's Porch is a great option for lunch! Their southern barbecue menu will have you licking your fingers its so good. My Picks – First Course: Pimento Cheese Fritters, Main Course: Pulled Pork with House Chips and Potato Salad, Dessert: Peanut Butter Pie. Their 3 course option is just $20 during lunch.
SOL Southwest Kitchen & Tequila Bar is located off upper King on Ann Street and features a fun outside patio. Their inside/outside bar is perfect for a quick lunch with friends. My Picks – First Course: Salsa Duo and Chips with house red & roasted tomatillo (chips and salsa are a must, duh), Entree: Pork Carnitas Tacos, Dessert: Caramel Apple Empanada. During lunch, 3 Courses are just $12!
Henrietta's inside the newest comer to the hospitality scene, the Dewberry Hotel. I promise you wont be disappointed! From drinks in the Mad Men inspired Living Room Bar to their Garden & Gun Shop, you'll have plenty to see on your lunch outing. Enjoy dining inside the traditional french brasserie or outside on the patio. My picks – First Course: Escargot, Second Course: Southern Fried Chicken Sandwich or the Glazed Lobster Omelette (both really great options). 2 courses at lunch for just $20. See the rest of the options here.
Finally, Dinner:
39 Rue de Jean is located in Downtown Charleston and offers a French inspired cuisine. They have a great variety on their menu and their Restaurant Week Menu reflects that. My picks from their menu – First Course: Spicy Combo Roll, Second Course: Trout Provençal, Dessert: Port and Citrus Poached Pear (I live for this dessert!). Don't forget the drinks with the wine specials. My pick: get the bottle of Caladoc Marselan Blend for just $23! You can get all 3 courses for just $40!
5 Church is off the historic market of Charleston and presents American focused dishes inside a historic church of Charleston. The design and murals within are cutting edge. You all know that I'm a big fan of their restaurants and they can do no wrong in my eyes or for my taste buds haha. My picks – First Course: Tuna Tataki (I get it every time I'm there), Main Course: Cab Filet Mignon (this was so hard because as I read their menu, my mouth watered after every description. The Lamb Burger and Farro Rissotto also sound amazing), Dessert: S'mores Trifle. The cocktail and wine list features some incredible choices – I definitely recommend taking advantage of the 3 Course Wine pairing for $15. The 3 savory courses can be yours for just $35!
Halls Chophouse is an absolute MUST during Charleston Restaurant week. If you've followed me for a while, you know I frequent the steakhouse and embarrass my friends by standing on a chair to get the gram. Billy is used to it by now haha. The restaurant week deal for here is a STEAL. Like, idc what you have going on – make time. Heres why: 3 courses for $45. Yes, $45. If you know Halls, you know you cant beat that! My picks: EAT IT ALL, kidding, but not really – First Course: Simple Greens Salad, Second Course: 8oz (of the best you've ever had) Filet Mignon paired with creamed corn and low country collard greens. Also, ADD the accompaniments – my advice: Black Truffle Butter, Creamy Gorgonzola, and the Sautéed Mushrooms & Onions. SPLURGE and add the Broiled Lobster Tail for a hearty dinner, Third Course: be surprised by the Chef's Nightly Dessert Feature. The rest of the Restaurant Week menu is available here. Afterwards, grab some bubbly and stick around at the bar – you never know who you might run into. A Halls night is one you'll never forget!
Atlantic Room at the Ocean Course can be found off the peninsula out at Kiawah Island. You can enjoy their American cuisine with an incredible view of the award winning Ocean Course. While you enjoy dinner, you can appreciate that the Atlantic Room is a member of the Sustainable Seafood Initiative that ensure the health of worldwide fisheries. My picks – First Course: Ricotta Salad, Second Course: Duck Confit, Dessert: White Chocolate Bread Pudding. It's a steal to get all 3 of these courses for $40. It was quiet difficult to decide on my picks for this restaurant as the rest of their menu sounds incredible.
Basil Thai Restaurant is right in the heart of Upper King with plenty of bars to hit up after dinner! Their Thai menu has so much deliciousness to choose from. My picks – Appetizer: Fried Wontons, Salad: Yum Yai Salad, Entree: Pad Thai (super filling and my favorite dish from them). All 3 courses are just $22.
Cannon Green is a hidden gem at the top of Upper King brining you a farm to table experience inside a one of a kind contemporary venue. You will be blown away the moment you pull up – valet your call always, step in the door, and take it in. Take your seat, order drinks, and then check out the entrance to the bathrooms on the way to wash your hands before dinner. While you wait on dinner – check out the courtyard outback. That's all I'm saying. Follow the steps and you'll be amazed by everything Cannon Green has to offer. Oh, and all that is before you try their delicious menu. My picks – First Course: Beets and Burrata, Second Course: Roasted Chicken, Dessert: Apple Crostata. The 3 courses can be yours for $40. An experience that you definitely do not want to miss!
Barbadoes Room is located on Meeting Street inside the historic and beautiful Mills House Hotel. Experience southern hospitality like no other with their full flavored menu. Start off with drinks in their lounge or in the legendary Fountain Courtyard before dinner. At dinner, my picks – First Course:Butternut Squash Ravioli, Entree: Smoked Half Chicken, Dessert: Apple Short Cake. All that yumminess at 3 courses for $30.
Cherrywood BBQ & Ale House is located at the Osprey Pointe Clubhouse on Kiawah Island. While you wait on your table, you can enjoy the view from the veranda of their famous alligators. My picks – First Course: Red Rice Fritters, Entree: Smoked Beef Brisket with a side of their award winning Four Cheese Mac (plenty of other side options available on their menu), Dessert: Key Lime Pie. The drive and the views are worth it, especially when all 3 courses are just $20!
Co Banh Mi Noodles Bar is in the popular area of King Street, Charleston's Fashion District. Their asian menu will have your tastebuds wanting everything on their menu. My picks – First Course: Spicy Crab Rangoon, Second Course: Green Papaya Salad, Third Course: Chicken Pad Thai, Fourth Course: Strawberry Spring Rolls. The 4 courses are just $25! In addition, I would recommend adding their 3 Course Sake Cocktail Pairing for $17. The sake options available will be ones you'll want to come back for during Happy Hour!
Coast Bar & Grill is located down a fun alley off King Street. The seafood based restaurant offers a variety of seating options to make every experience unique. My picks – First Course: Salt & Pepper Calamari, Second Course: Surf & Turf (the Jalapeno Bacon Wrapped Shrimp included in this is bomb), Third Course: Orange & Mango Panna Cotta. This seafood packed dinner is 3 courses for $30. Check out the rest of their restaurant week menu.
Élevé can be found on the rooftop of the Grand Bohemian Hotel. The rooftop garden setting boasts a menu where French dishes have taken on gypsy twists. Enjoy your meal inside with two bars and an incredibly designed dinning room or outside on the rooftop under the Charleston sky. A new head chef calls for a spruced up menu that's worth checking out. My picks – First Course: Lobster and Crab Bisque, Second Course: Pan Seared Red Snapper, Third Course: Apple Galette. Their offer is 3 courses for $35.
Indaco serves up a large offering from their Italian menu for restaurant week. There is so much goodness to choose from, you will want to check them out a second of third time during the course of restaurant week. Since there is so much to pick from, I'm sharing my favorties from each section – First Course: Steak Tartare, Polpette, Burrata, Prosciutto di Parma, Sausage Pizza, Second Course: Black Pepper Tagliatelle, Beef Cheek Ravioli, Roasted Half Chicken, Dessert: Almond Budino, Apple Crostata, Dark Chocolate Mousse. Any three combinations are just $35!
Minero offers up their Mexican cuisine on the second floor of a Charleston building just steps from the water. My picks – First Course: Red Posole with Anson Mills Homony, Second Course: 1 Grilled Octopus Taco and 1 Lamb Barbacoa Taco, Dessert Course: Churros. At 3 courses for $25 its a must to experience their culture! Plenty more here.
O-ku brings their Sushi Menu to Upper King Street and offers some great choices during restaurant week. My Picks – First Course: Tuna Poke, Second Course: Sushi Combo, Third Course: Chocolate Bliss. Get 3 courses for just $35! More of their restaurant week options here.
Tavern and Table is located right on the water at Shem Creek! Their inside and outside dinning options with the combination of savory dishes create a great atmosphere. Id recommend getting there early for cocktails and doing dinner at sunset because the views are spectacular! My picks – Starter: Lobster Beignets, Entree: Shrimp and Chorizo Flatbread, Dessert: (Honestly, get both) Caramel Apple Tart. They also have some great wine specials during restaurant week. I'd go with the Prosecco or the Pinot Grigio – both just $20. Get their restaurant week offer at 3 courses for just $35. (And make sure to ask for my bestie, Tim to be your server! 😉
Ink N Ivy is a new comer to Charleston Restaurant Week and is located on Upper King Street. You cant miss their grand entrance and their eclectic decor. Their motto is,  "Eat. Drink. Be Social." That's exactly what you'll do while you enjoy some great American dishes with a twist. My Picks – Social Eats: Tuna Tostada, Greens: Chopped Ink Salad, Plate: Salmon, Finish: Cannoli Cream. Get this experience and more at 4 courses for $35.
Fleet Landing Restaurant sits right on the water in the Charleston Harbor. The illusion of being on a floating restaurant will make your meal a little extra special. You cant go wrong with the Southern Seafood Cuisine dishes that will have your mouth watering as you make your decision. My Picks – Appetizer: Lump Crab Bruschetta, Entree: Crispy Whole Fried Southern Flounder, Dessert: Huguenot Torte. You'll enjoy 3 courses for $30. I recommend adding their wine pairings to get all 3 courses and Wine for $50! More on their restaurant week menus here.
So, what are you waiting for?! Check out the rest of the participating restaurants on the Charleston Restaurant Week site here and plan your meals until the 21st. If you're like me, you'll be eating out the next 33 meals 🙂